If you only want to see my RESUME, click it.  IMDB is mostly correct!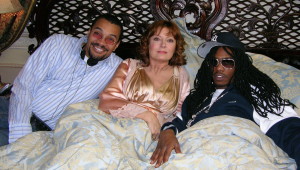 I know… star f'n!  But who wouldn't want a photo in bed with Susan Sarandon and Dave Chappelle?  Plus I still had hair, so… yeah.
---
 ABOUT ME SORT OF…
I have been fortunate to work with some incredibly talented folks.  I'm known for comedy, having directed Dave Chappelle on three seasons of Chappelle's Show on Comedy Central, and actors such as Terrence Howard in Movie 43.  A wild ride and my segment with Terrence is funny as hell.  Check it out here.
The first feature I wrote and directed, Fear of a Black Hat, was a rap mockumentary which got me known in the comedy vein and has gone on to become a cult classic.  Yup.  Proud of that.
My second feature,  Tales From the Hood, was produced by the brilliant and oh-so-controversial filmmaker Spike Lee.  I was also fortunate enough to be cast as an actor in his film School Daze.  Yes, I've acted, directed, written and done stand up comedy as well!  Even had a short stint as a correspondent on Michael Moore's iconic TV Nation.
Recently I've been behind the camera far more often than in front of it.  The last few years I've worked with the super funny Wanda Sykes, directed episodes of The Hustle for a very talented writer-producer Prentice Penny, directed for BET and begun a documentary on a life-changing youth program taking place in my hometown of Pittsburgh Pa.
What I truly love is socially oriented comedy.  Though I have been working on getting a few dramatic projects off the ground as well.
I do believe that, as Marshall McLuhan famously said, "The medium is the message".   Film, television, music, literature, art… every one of these media are constantly shaping and forming out values, priorities and philosophies.  All media has a message, and an artist that does not respect this truth is like a fool with a loaded uzi… just firing bullets for fun without regard for the consequences of her actions.  Yeah, I said "her".  See how you can tweak people when you make a choice?
For more on what I've done.  Check out my RESUME here.